Dog Boarding in Vancouver, BC
Dog boarding services at DogPlay offer a trusted haven for your pup when you can't be there. Whether you're jetting off on a vacation, tackling a busy work schedule, or simply need a safe and nurturing environment for your pup, our dog boarding services have been trusted by pet parents across Metro Vancouver for nearly a decade.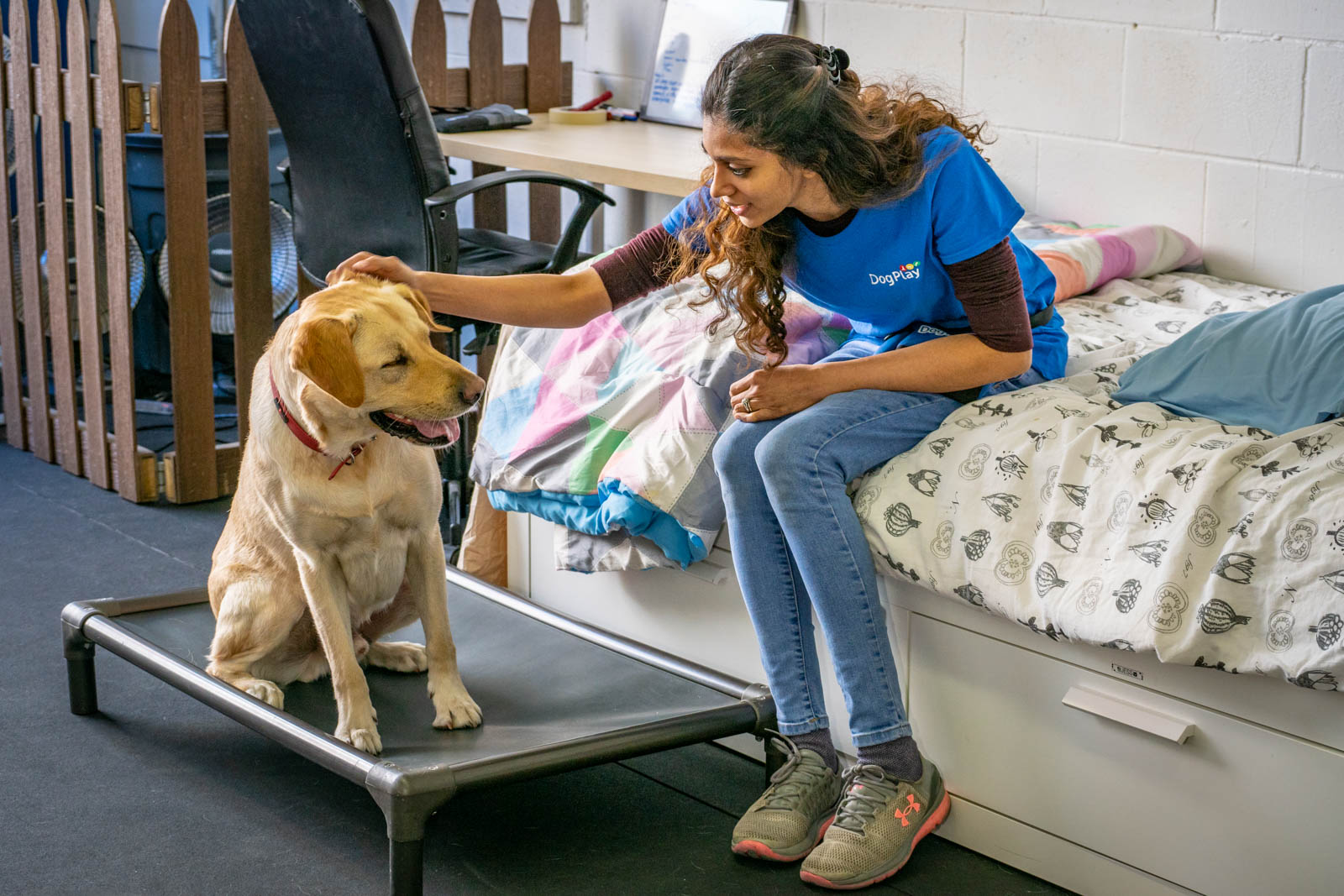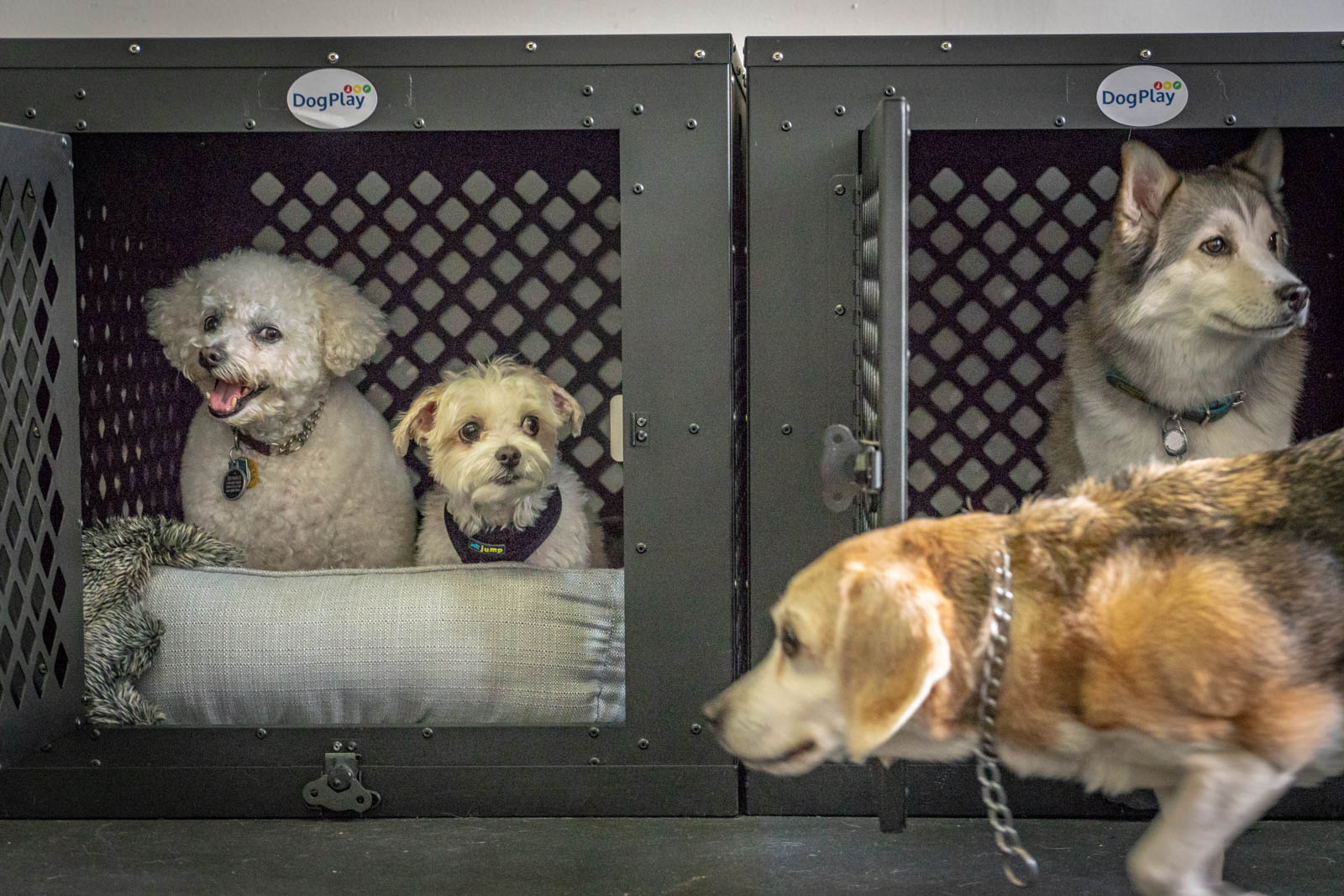 Our Trusted Approach to Dog Boarding
All of our dog boarding is done in our facility. Boarding dogs spend their days in doggy daycare and retire to our boarding suites in the evening. They are accompanied 24/7 by a trained DogPlay handler and are never left alone. We have a wide variety of crates, beds, and bedding to help the dog sleep comfortably or pet parents can bring their bed from home if they like. We even offer discounted grooming services during their stay!
24 Hour Dog Daycare Included
All overnight boarding stays include days at our doggy daycare throughout their staycation with us which includes group play, structured activities, basic training, and regular walks and bathroom breaks!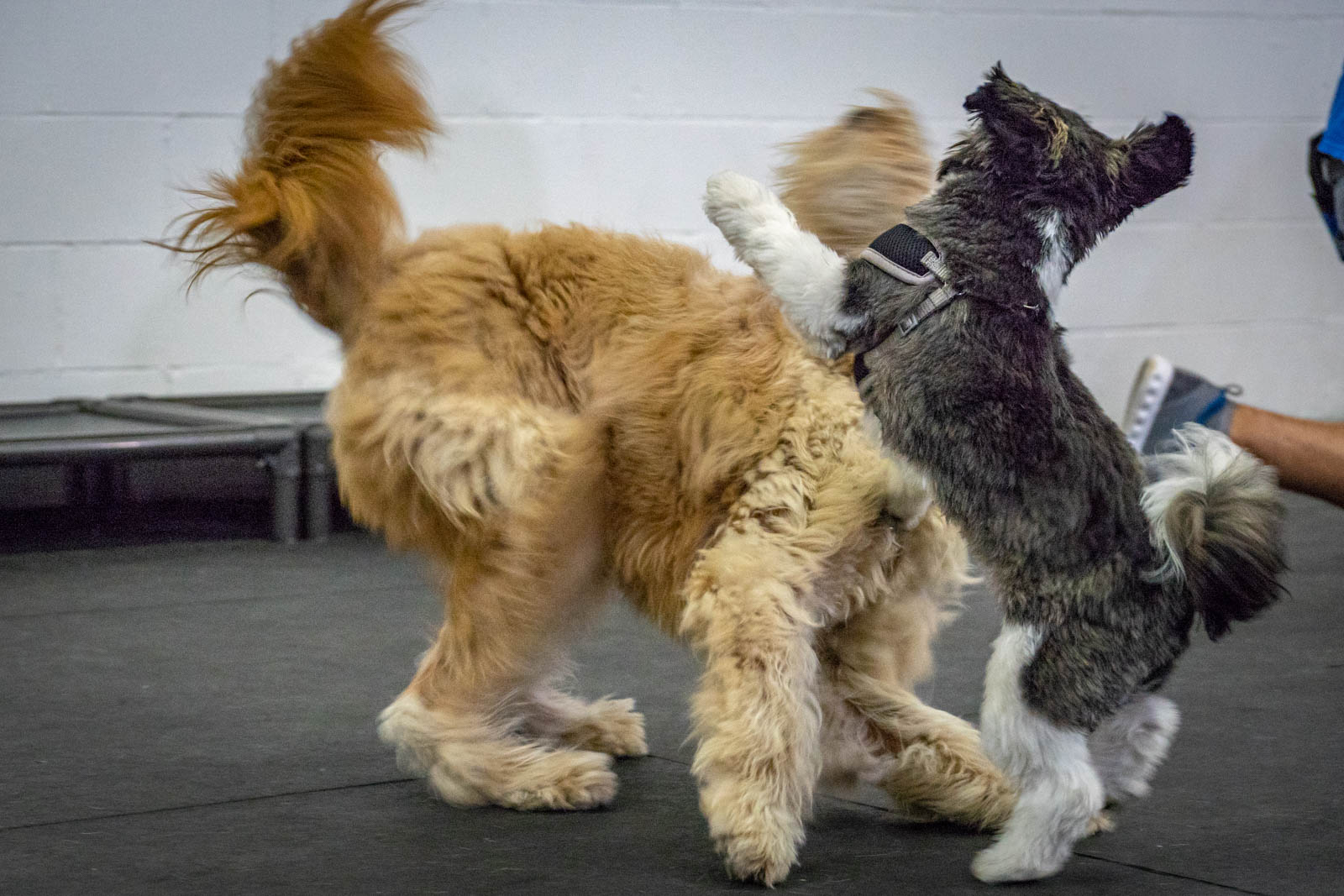 Facility Amenities & Flexible Sleeping Arrangements
Our facility has 4,700 square feet of play area comprised of multiple, separated spaces for open play, boarding suites and meal times
The facility layout is segregated into two large open play areas, two smaller private play areas, a private kitchen area (where all medications and meals are administered one-by-one), and our boarding area with a variety of sleeping arrangements
Dogs are separated by size and temperament and our team takes the time to get to know each dog so they understand their unique personality and behaviour when determining which area they should be in
Our facility has a designated dog boarding area with flexible sleeping arrangements available based on your pup's preferences
We provide the option for open boarding with beds as well
We allow pet parents to bring their own dog's bed (which can be placed in a crate, set up in open boarding or set up beside our overnight handler)
For dogs that show signs of anxiety, stress or are having trouble settling down for the night, we allow any dog or dogs to sleep next to the overnight handler (very popular doggy choice!)
We have a full array of dog toys, accessories and agility courses for structured play activities throughout the day!
We have a wide range of tug of rope, balls, chew toys and organic & gluten free treats to keep pups active all day
We have an agility course that we set up in doggy daycare where we use reward-based training techniques to keep dogs mentally and physically engaged throughout the day as well
Facility Cleaning Protocols and Procedures
We have a comprehensive cleaning and sanitation program that is comprised of daily and weekly cleanings tasks completed by our staff that includes, disinfecting, mopping and vacuuming all play, boarding and meal time areas
We use pet safe disinfectants and cleaning products for all of the daycare and boarding areas. We also have a washer and dryer on-site so we are able to wash all of the doggy blankets and beds that are provided for all pups during their boarding stay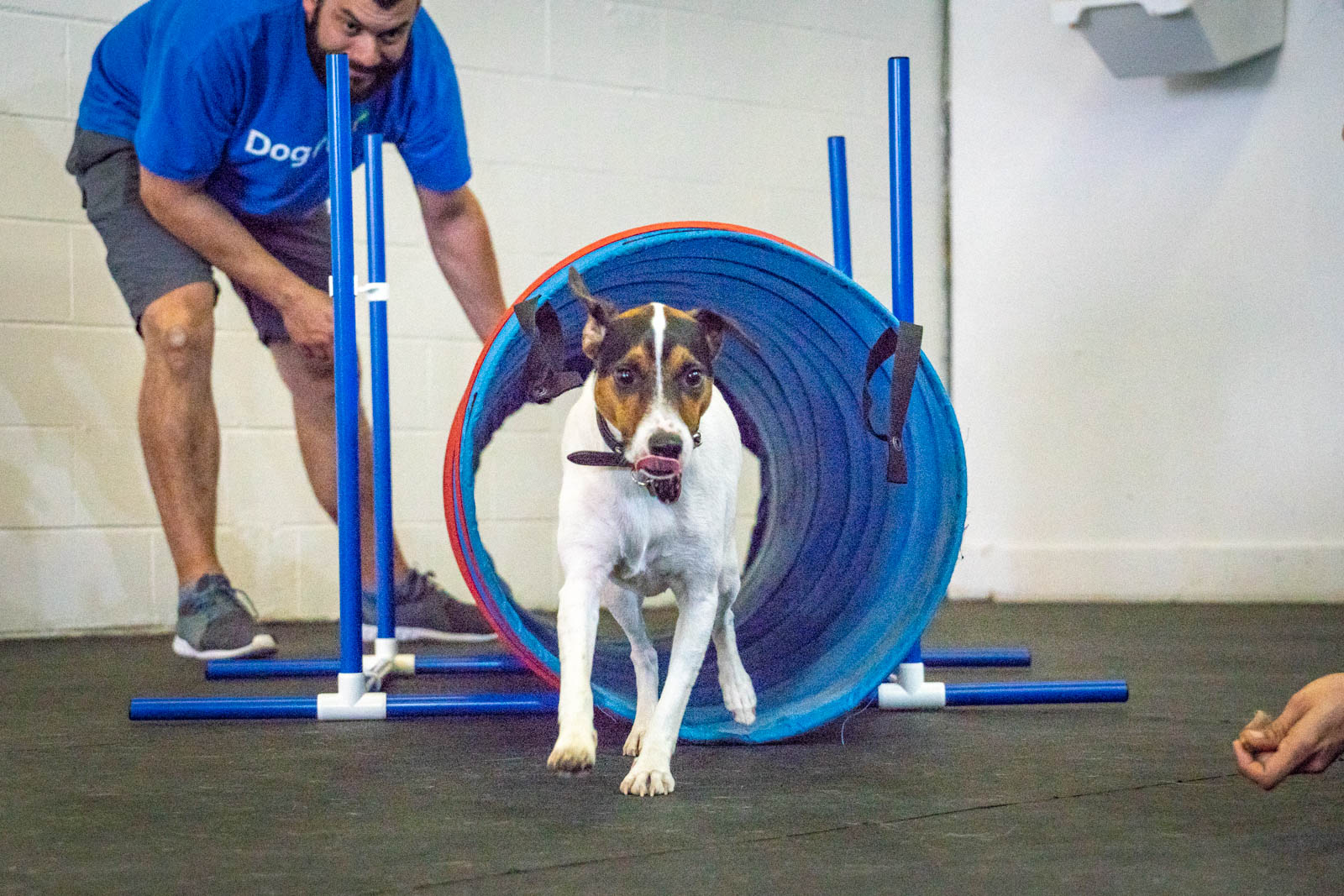 The DogPlay Team Training, Qualifications & Experience
All DogPlay handlers are trained through a combination of FetchFind, our in-house DogPlay handler training program and receive their Canine First Aid training. We focus on teaching handlers different dog learning styles, how to reinforce positive behaviours, using reward-based training techniques, understanding dog communication and behaviour through body language and learning how to manage dogs in groups.
Meals, Medications, Supplements and Lots of Fresh Water
Meals, medications and supplements are administered on a one-on-one basis, up to three times a day depending on each dog's specified schedule.
All meals, medications and supplements are tracked through our software system which is used by our trained staff to accurately administer each dog's requirements specified by their pet parents throughout their stay.
Fresh water is provided all throughout the day, and water bowls are easily accessible to the dogs in each of our separated play and private areas so they can drink in one of our group areas, or drink privately if they prefer!
Our team tracks and monitors how well each dog has eaten and taken their medications and supplements over the course of their boarding stay, so we can provide plenty of feedback to pet parents on their pup's stay with us! 
We know every dog in our care, personally!
Our team of trained handlers invest the time and energy to get to know every dog's personality, behaviours and quirks that make each dog unique!
As part of our new dog onboarding process, we ask all new dogs to come in for an intro day, which is a half day in daycare, ahead of their boarding stay. This allows our team to get to know the new dog and the pup can get familiar with their new surroundings!
This is an important day for us, as our team can learn the dog's temperament, motivation, level of socialization with other dogs and people and level of basic training. This allows us to determine which play area they should spend their day in and if we have any recommendations to make their boarding stay with us as comfortable and enjoyable as possible!  
We strongly believe this is what separates us from other daycare and boarding centers in Vancouver – we truly spend the time to get to know each pup!
Grooming Discounts are Provided with All Boarding Stays
DogPlay offers full in-house grooming services in our doggy salon. We specialize in low-stress grooming techniques, which requires more patience and time to complete a groom so that dogs with anxiety or who are new to grooming feel comfortable and relaxed.
Grooming discounts are offered during your pup's boarding stay
We offer discounts on bath & brush grooming services with all boarding stays under 10 days
In addition, we offer a complimentary bath & brush grooming service for all boarding stays over 10 days
A bath & brush includes a warm bath with all-natural shampoo, towel and blow dry, full brush out, ear clean, and nail trim!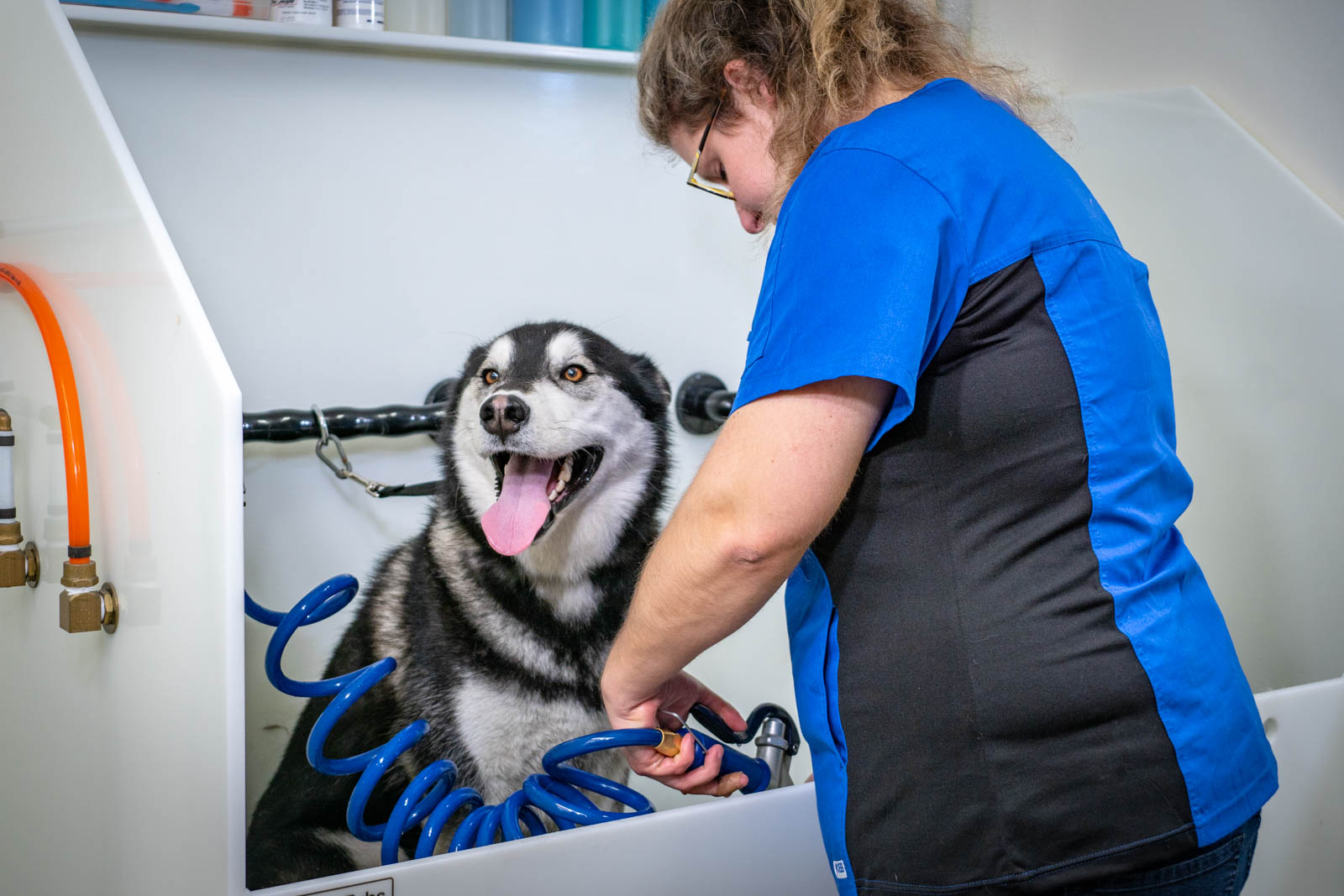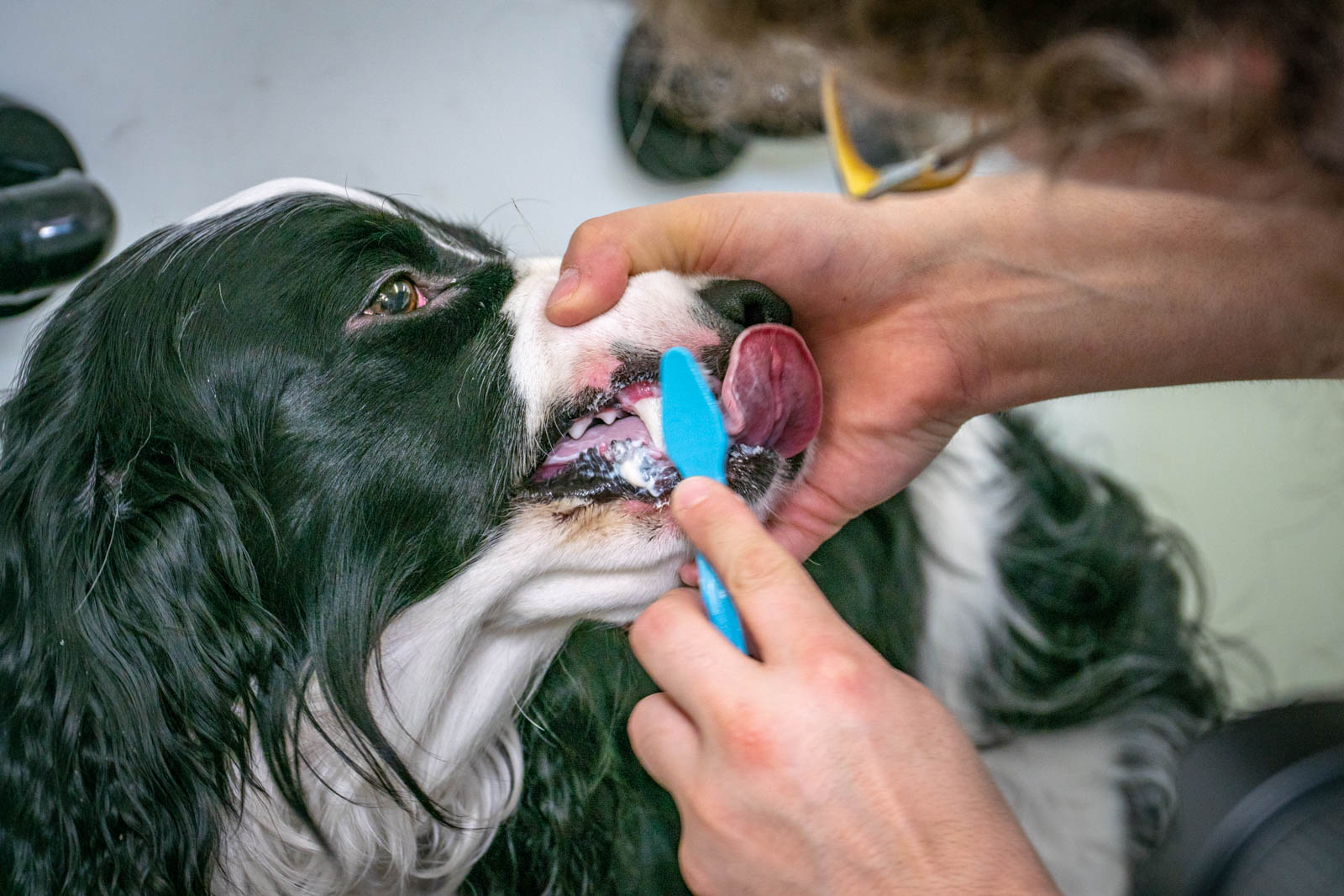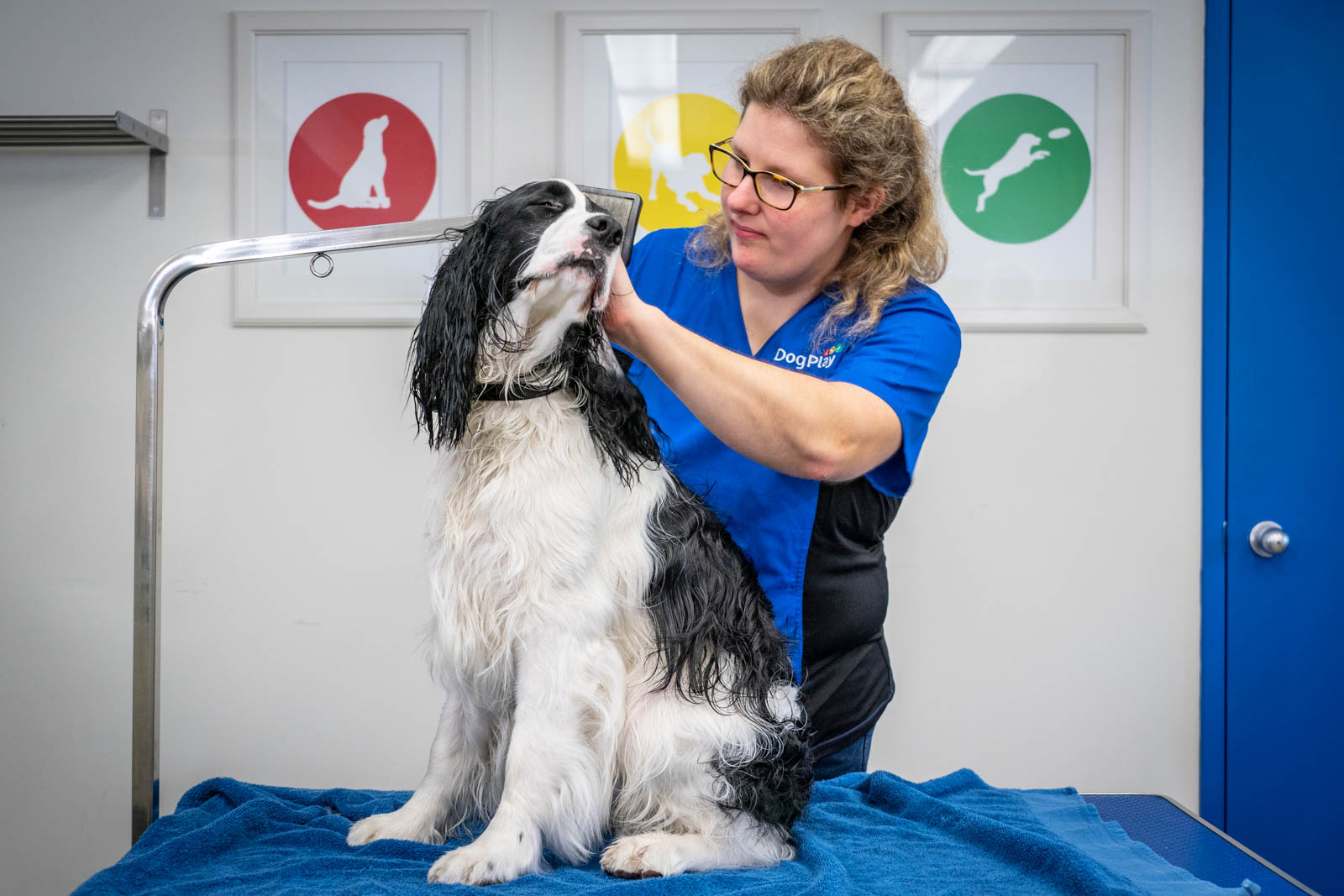 Penny and I absolutely LOVE DogPlay! They were recommended to me by a neighbor and I will be forever grateful that we were able to find such a great place that I can 100% trust with my baby. I love that the staff truly love dogs and that they interact with them constantly whether it be cuddles and pets, playing or training games.
I also was very pleasantly surprised at how well they knew Penny after only one visit and continue to give me updates on how her day went and how she is progressing every time I pick her up. Cannot say enough good things, best doggie daycare there is!
We love DogPlay! Our dog is usually reactive to other dogs, but (incredibly) has been able to play and engage with the group at DogPlay. The trainers and staff are wonderful, and give her all the attention and care we could hope for. Highly recommend DogPlay for both dog daycare and overnight boarding!
Ready to Get Started?
The first step is to register an account with DogPlay. From there you will be able to request and manage bookings, update your dog's information, purchase packages, and much more!
Register
DogPlay
Marvel Premium Theme
1122 Down Street, Princetown
London, United Kingdom
Phone: 0 (1)123 456

Contact Us
8849 Selkirk Street
Vancouver, BC V6P 4J6